Syrians in Nebraska plead: Don't turn your backs on refugees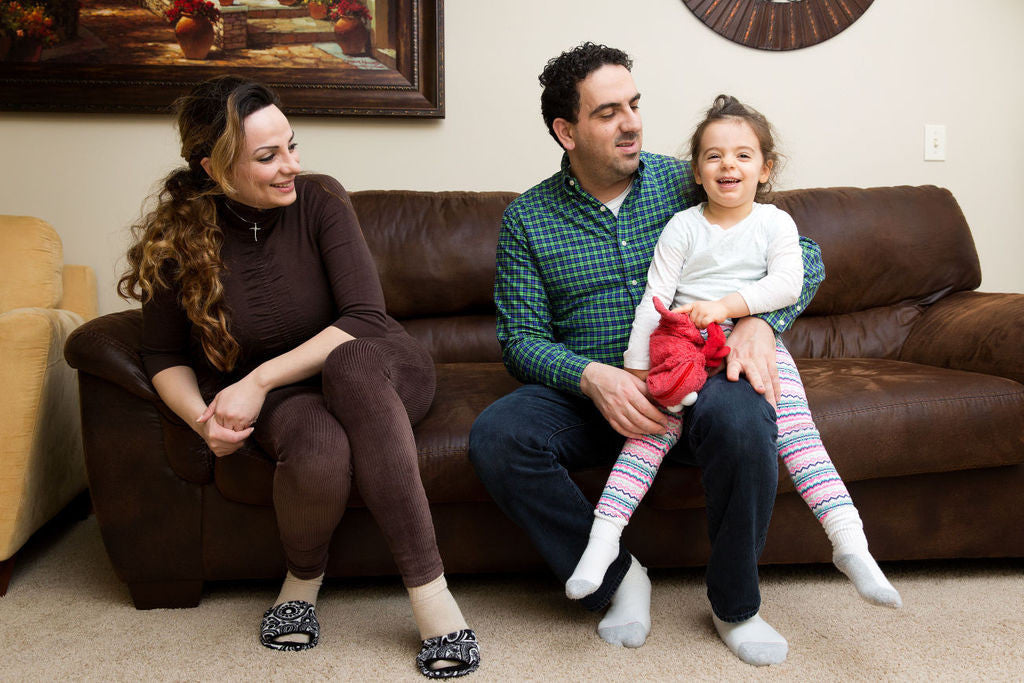 By Henry J. Cordes / World-Herald staff writer | Updated 
Rula Jabbour tells of how her father fled Syria when he was tipped off that a terror squad was on its way to kidnap and behead him.
Months later her cousin, pregnant with twins, was obliterated by a terrorist rocket fired on Syria's capital city.
So Jabbour's emotions run high when she hears politicians saying the United States should slam the door on refugees fleeing such violence and brutality. Or that only Christians should be allowed in.
"When you turn your back on these refugees," Rula Jabbour said, "you make ISIS win."  - RYAN SODERLIN/THE WORLD-HERALD
To her, those aren't the ideals of America — the country that the Syrian immigrant now proudly calls home. The America she loves is not driven by irrational fear. It does not discriminate. And it does not turn its back on people in desperate need.
"The refugees escape the hell of ISIS, and we say we are afraid because they are ISIS," said Jabbour, a 32-year-old doctoral student who has lived in Omaha for the past decade. "It's just very shortsighted, it's abusive to human rights and it's very insulting to our reputation as an American nation."
Politics has swirled around the future of Syrian refugees after terrorist attacks in Paris left at least 130 dead, injured scores more and revived post-9/11 fears across the country.
But the debate strikes a particularly emotional chord with the dozens of former Syrians who now live in Nebraska. Many remain concerned about the plight of family and friends who are still in Syria. And many have been touched by the violence the refugees are seeking to escape.
Rula Jabbour and her husband, Awad Qumseya, play with their daughter, Sama, at their Omaha home. Sama was born in the United States. - RYAN SODERLIN/THE WORLD-HERALD
[Refugee data: How many refugees have come to Nebraska and the U.S.?]
The terrorist group known variously as the Islamic State, ISIS or ISIL claimed responsibility for the Paris attacks. One of the attackers reportedly entered Europe in October posing as a Syrian refugee, using a fake Syrian passport.
That prompted Nebraska Gov. Pete Ricketts and Iowa Gov. Terry Branstad to join dozens of other governors in calling on President Barack Obama to suspend all plans to resettle Syrian refugees. The U.S. House last week overwhelmingly passed legislation to create more stringent vetting procedures that would effectively halt the admission of any refugees from Syria or Iraq. Some Republican presidential candidates have suggested only non-Muslim Syrian refugees should be admitted.
[Where the 2016 presidential candidates stand on Syrian refugees]
Obama has stood firm behind his previous commitment to resettle 10,000 Syrian refugees in the United States over the next year. His administration has defended the extensive and sophisticated refugee screening process that's already in place.
Most of Nebraska's Syrians have been here since long before the civil war that led to the rise of the Islamic State and the refugee crisis. None of the Nebraska Syrians are refugees, although a few did flee the violence there and were able to obtain travel visas and make their way to the United States on their own. Jabbour's father and mother have both settled in Omaha and were recently granted political asylum.
Rula Jabbour's home village of Kenseba, Syria. - RULA JABBOUR
Yara Haddad is not a refugee, but says she might as well be. The 24-year-old college student was in Omaha visiting her brother a year ago when her father encouraged her to stay because of the deteriorating security back home. She has remained in the United States under temporary protected status.
Earlier this month she was reminded of the kind of violence that caused her father to fear for her safety. A rocket fell on the campus of her former university in Latakia, killing 23 and wounding dozens of others.
"They were happy and walking around on a sunny day, and they did not come home," said Haddad, who, like Jabbour, comes from a Christian family. "Even when I'm talking about it, I feel it's impossible that it happened. But it's real."
She worries most about her 13-year-old sister, still living with her parents in Latakia.
Chafik Barbar, a Syrian native who has lived in Nebraska for nearly two decades, has horror stories, too, including an uncle felled by a sniper in Syria. Barbar returned last week from a trip overseas to visit relatives who have fled Syria for Dubai.
"It's a survival game," said Barbar, 32, who works for an Omaha software company. "It's one thing to read it in the news, but it's another thing when your cousin sits down and tells you what they went through."
He said he understands U.S. concerns about security. But he said it's also easy to dismiss the refugees when talking about them in abstract terms. If Nebraskans actually had a chance to meet the families that have fled Syria, they would surely welcome them into their homes.
"That guy who walked across the desert into Jordan is not bringing his wife and two children here to destroy the United States," Barbar said.
Jabbour said slamming the door on Syrian refugees will actually harm U.S. security. It only plays into the Islamic State recruitment narrative that the United States and the West are hostile to Muslim people.
"When you turn your back on these refugees," Jabbour said, "you make ISIS win."
Jabbour first came to the United States on a student visa in 2004 to attend the University of Nebraska at Omaha, completing bachelor's and master's degrees in political science. Now she commutes to Lincoln to work on her doctorate in international relations, with a focus on Middle East studies and security and strategic studies.
Given that background, she has kept close tabs on the humanitarian crisis that's arisen in her former homeland.
Inspired by the Arab Spring uprisings in Tunisia, Egypt and Libya, the Syrian people in 2011 rose up against the authoritarian regime of Bashar Assad, seeking democracy and political freedom. Peaceful protests descended into violence and then escalated into a civil war between Assad's government and rebel fighters.
The Islamic State, which originated in Iraq, took advantage of the vacuum of power to move into Syria, soon controlling vast swaths of the country. The al-Nusra Front, the Syrian branch of al-Qaida, also rose up, like the Islamic State harboring dreams of creating a radical Islamist state in Syria.
Like many Christian families, Rula Jabbour's parents decided their best hope for the future lay in staying loyal to Assad and his secular government. They lived in Latakia, a government stronghold.
But Rula's father, Gabriel Jabbour, was also a community leader in Kenseba, a Christian village of about 5,000 some 25 miles outside Latakia. He was the patriarch of a large extended family there and owned a large house and farmland.
The village in 2012 came under control of Islamist militants originating in Libya. As a local leader who was Christian and supportive of a secular government, Gabriel was targeted by the invaders.
"They wanted to send a message to the whole village," his daughter said.
The family's house and farms were burned to the ground. And then the militants tried to lure Gabriel into town, suggesting others needed help. The calls were coming from a foreign phone number, so he ignored them.
But then one night in July 2012, Gabriel received a phone call from a villager loyal to him, offering a warning: They are coming to your house to seize you, put you on public trial and then behead you.
Gabriel wasn't sure what to believe until he received another call an hour later, this time pleading. "Please, please, get out of there. They are coming to your house tonight."
Within an hour, he and his wife gathered some belongings into a single bag and fled.
Refugees In Midlands:
The Jabbours had already obtained visas to visit their daughter in Omaha for the birth of her child. The couple fled to Lebanon, where they waited for their daughter to send them airline tickets to fly to Omaha. They've been here since.
"My father is in very deep depression all of the time," Rula Jabbour said. "He is a very proud man. He feels like he turned his back on his family in Syria."
One month after her parents fled, Jabbour's 26-year-old cousin was standing on her balcony in Damascus talking to a neighbor. A rocket suddenly roared from the sky, striking her directly.
"They were not able to find her body," Jabbour said.
A distant cousin was kidnapped and never heard from again, Jabbour said. She still fears for the safety of all her relatives who remain in Syria.
"My cousin was killed on her balcony," she said. "I can't tell you they are in a safe situation."
Barbar said his family also quickly became engulfed in the conflict. Homs, the central Syrian city where he was born and where he still has many relatives, became a center of clashes between government troops and rebel militants.
His uncle was leaving work one day, just miles from the Christian neighborhood where Barbar lived as a child, when he was shot by a sniper. Barbar said he's not sure why his uncle was targeted.
"In a war zone, killing is a game for a lot of people," he said.
Barbar, Haddad and Jabbour all have family members who have joined the millions fleeing Syria. They are now scattered across the globe, from Dubai and the United Arab Emirates to Germany, France, Austria and the United States.
Having left her own parents and sister behind, Haddad knows the pain of seeing family scattered by conflict.
"My father said, 'I love my kids, but loving you means I want you to stay away from me.' "
Haddad and other Nebraska Syrians have watched with great interest the past week's debate over the plight of overseas refugees.
Haddad agreed the United States needs to make sure that refugees coming here have no hostile intent.
But she noted that the prospective refugees being considered by the United States have spent years in refugee camps in Jordan, Lebanon and Turkey. They've endured month after month in tents during the heat of day and cold of night. She sees it as hardly the most likely way a terrorist would seek to scheme his way into the country.
"That's impossible," Haddad said. She also has faith in the ability of U.S. intelligence agencies to screen out potential terrorists.
Jabbour noted the screening process for refugees is already so stringent and lengthy that it takes years for anyone to get through. Even after her parents arrived in 2012, it took more than three years for them to be granted permanent asylum.
"When my father is 60 years old and it takes three years, it does not mean it is an easy process," she said.
Barbar, who's lived in the U.S. since age 14, grew up in Lincoln. Now a U.S. citizen, he doesn't think last week's debate well represented what his country is about.
"The easiest thing is to get scared and slam the door," he said. "But it's against everything this country stands for and all the things I love about this country."
Jabbour shared similar feelings. Her 3-year-old daughter, Sama — Arabic for "Heaven" — is already an American citizen by birth. She and her husband, a Palestinian Christian, look forward to the day three years hence when they will be able to take the oath of citizenship. As much as she loves her adopted country, she doesn't think the refugee debate has brought out America's best.
"I hate to see America turning into a scared nation," she said. "I refuse to let the fear of a bomb lock me in my house. 'In God We Trust,' after all."
Amid the refugee debate, officials with Lutheran Family Services of Nebraska revealed last week they had previously agreed to help settle up to 100 Syrian refugees in Nebraska.
Officials with the agency have said that once security concerns are cleared up, they expect to follow through with that pledge. They would become the first Syrian refugees to land in Nebraska.
Upon hearing that news, Jabbour's emotion betrayed just how deeply the plight of the refugees touches Syrian Nebraskans.
"Oh my God, thanks God," she said, gasping and clasping her hands close to her chest. "That is great news. I cannot be more happy for hearing such news."
Refugees Opinion:
Contact the writer: 402-444-1130, henry.cordes@owh.com