Holy Land Christians offer art to local Catholics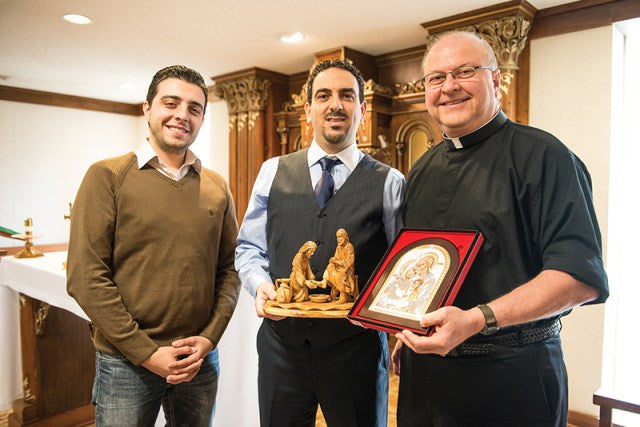 by Joe Bollig
joe.bollig@theleaven.org
KANSAS CITY, Kan. — There isn't much good news coming out of the Middle East at this time, especially if you are a Christian.
Wars and the rise of violent Islamic movements have caused widespread death and destruction among the ancient Christian communities in Iraq and Syria.
Other Christian communities in Egypt, Jordan, Lebanon, Palestine, Israel, North Africa and South Asia also face unrelenting economic and social pressure and occasionally violence.
Awad Qumseya knows this well. He was born near the same city where Jesus was born: Bethlehem.
In 1947, the Christian population of Bethlehem was about 85 percent. Now, it's about 15 percent — and dropping.
All the lands where Jesus walked have experienced a similar or worse decline. In some places, only the ruins of Christian churches survive. Christianity in those places is extinct.
"For a very long time, Christians in the Holy Land depended on tourism, by making olive wood carvings and selling them to the pilgrims who visited the sites," said Qumseya, a Christian.
Elias Jabbour (left) and Awad Qumseya, Omaha-based sales representatives of Blest Art, meet with archdiocesan vicar general Father Gary Pennings at Savior Pastoral Center in Kansas City, Kansas. Blest Art has been authorized by the archdiocese to visit parishes and offer heirloom-quality, olive wood carvings made by Christians in the Holy Land. Sales of this art is one of the few sources of income for the shrinking Christian population. Leaven photo by Joe Bollig
"Unfortunately, in the past few hundred years and for many reasons — mainly war, violence and persecution — many of our families were forced to flee the Holy Land," he continued, "and go to parts of the world where they could feed their children and have a more secure life."
Qumseya's father, Jeryes Qumseya, was a master carver and artisan from Bethlehem. He came to the United States in 2000 to establish a company that would help Christian artisans sell their religious goods to American Christians.
For Holy Land Christians, the art they sell gives them the dignity of supporting themselves through work and the ability to remain in the Holy Land — not only to live, but to safeguard the Christian heritage in the land of Jesus as "living stones" of the church.
Americans, on the other hand, have an opportunity to do something practical for their Christian brothers and sisters — and to hold in their hands a tangible connection to the land of Jesus.
The company's name is Blest Art, a subsidiary of Blest Art Ltd. in Bethlehem, Palestine, the West Bank. In the United States, the company has eight full-time employees in its Omaha office and about 25 representatives who visit Catholic parishes in a 16-state sales region.
Most of the items they bring are carved out of olive wood, but Blest Art also has icons and jewelry. They have been bought for a fair price by Blest Art from Christian Holy Land artisans.
"Most of the olive wood comes from olive trees in the Holy Land — some very old, hundreds and thousands of years old," said Qumseya. "Of course, we do not cut down the trees, we just trim them and use the branches."
Recently, Blest Art representatives have been visiting parishes in the Archdiocese of Kansas City in Kansas. Their heirloom quality items for sale after Masses include many depictions of the Blessed Virgin Mary, the Holy Family, crucifixes in many styles, Nativity sets, rosaries and other items.
"So why are we here? To promote these articles, to create a new source of income for our families so they can continue to work and live with dignity in the middle of the ongoing conflict in the Holy Land and not leave home," said Qumseya.
"And we do so by vising parishes every single weekend and talk to the people and try to sell these items," he continued. "Only sell them. We never take any kind of donations. We do not accept them. People ask us why, and we explain to them. It's very simple. It's not a dignified source of income. We want our people to be able to work. . . . We are not trying to create a welfare community."
Blest Art carvings are made by people of faith for people of faith. The money produced by these sales uplifts the entire Holy Land Christian community.
"We are not complaining," said Qumseya. "This is our destiny. We are so proud that the Lord Jesus and God the Father have chosen this land to reveal his Gospel and build his church."
"We think the day will come when [God] will come on the final day and ask us, 'What did you do with my heritage, what did you do with my church? Did you do due diligence to protect it or not?'" he added.
"We will stand and say, 'We tried our best.' We have great faith [God] will not let us down, we have great faith that we will succeed," he said. "And we have great faith that the Middle East that was once flourishing with Christianity will be again.
"It seems hard, but what is hard for humans is not hard for God. Our crucifix is big, but Jesus has set us an example. He carried it all the way along and died for us. If it comes that we have to die for him, we will do it — bottom line."